Have you ever thrown on a nice soft t-shirt, only to be shocked with a big HEAVY plastic feeling print on it?
Have you worked out in a lightweight tank that creates an uncomfortable sweaty patch across your back cause it's got this great big THICK print?

Nowadays there's an undeniable preference for flowy fabric blends & high quality, super soft ring spun or combed cotton finishes. Don't get me wrong, a heavy weight cotton tee like the AS Colour Classic Tee, The Alstyle Tee or the Gildan Hammer Tee still has its place (in streetwear & colder climates for example).
The bottom line is, when you're wearing a nice, light, soft t-shirt you just don't want those thick heavy prints weighing you down!
---
Plastisol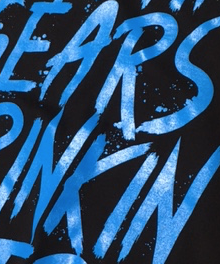 First of all here's a quick into to the most widely used Screenprinting ink – Plastisol.

This ink is awesome for really bright colours, ease of printing and producing consistent colour results on all sorts of fabric types.

But what you'll find with Plastisol ink is that your print will be sitting "on" the shirt, rather than "in" it…and this is especially noticeable on black or other dark fabric colours.
---
How do you get a SOFTER feeling print?
So how exactly do we get the print to sit "in the shirt" rather than "on" it?
Generally speaking, the type of ink used to achieve a super soft feeling print is Waterbased ink.
Waterbased inks will penetrate the fabric, allowing it to move more freely underneath and will end up a lot softer to touch. Depending on your garment fabric type and colour, we have a couple of options to choose from.
**TOP SECRET INDUSTRY TIP**
Want to know every Screenprinter's pet peeve? When someone refers to using "PAINT" for screenprinting. We use INK to print your designs, but many people get the terminology wrong. Want to test out my theory? Ask any Screenprinter which is their favourite printing paint to use… 😉
Light coloured garments
For a white or light coloured t-shirt, your waterbased ink colours which are darker than the shirt will print straight down into the fabric.
THE BIG PLUS is this means you get a really soft hand feel which works perfectly on your fabric blends or lightweight soft cotton t-shirts.
The trade off for this is that some certain ink colours might end up looking slightly transparent, depending on what the colour of the shirt is.
For example if you printed a RED WATERBASED INK straight down onto a GREY MARLE t-shirt, you'll likely see a bit of the marle fleck through the ink. Which can be a really nice finish, depending on what you're after.
Dark coloured garments
When we're printing onto a DARK coloured garment, in order to achieve that really soft "IN THE SHIRT" feel we would use a different type of waterbased ink – our specialty DISCHARGE ink.
What's the difference?
Our DISCHARGE ink includes a special chemical additive, which when it's exposed to heat will draw out the dye of the t-shirt fabric and replace it with your ink colour.
Take a look at this awesome example of a yellow discharge print onto a black t-shirt – the big green conveyor belt machine is our curing tunnel.
Notice how BEFORE the shirt has gone through the curing tunnel the colour looks very dull and transparent? Then once it's exposed to the heat, the DISCHARGE chemical reaction takes place and BAM – there you have a nice bright yellow print!
Sound tricky?
It is!
Many printers here in Australia just won't bother touching discharge as it's really fiddly and takes a lot of effort to get consistent results.
Take these guys in the video – Roadsick Apparel – their discharge yellow ink on black t-shirts has become somewhat iconic for their brand, so keeping that yellow consistent between designs over the years is really important – and no easy feat!
We've been perfecting the art of discharge printing over several years and have used it on hundreds of different designs and colours, so we know how to prepare you for what to expect and when it will work best.
While discharge ink is best suited to 100% cotton fabrics, we have had great success in producing excellent colour results onto some fabric blends from certain blank clothing brands.
When you talk to your Apparel Consultant they will guide you through what will work best for your specific design idea.