Want to know a secret?
There is a way to take the risk out of ordering your custom t-shirts.
No available capital to invest right now? No dramas.
Use this proven system to take the hassle and uncertainty out of printing your custom apparel.
Our earlier post about Sorting Your Sizing Breakdown is a great tool when doing sizing projections.  But if your custom apparel is for specific individuals, perhaps doing a 'guesstimate' of sizing isn't the best option for you.
Accepting pre-orders is a sure-fire way of minimising the risk of holding too much stock….or not enough!
Here's how it works:
Step 1) Prepare your custom t-shirt designs

Our Art team will put together a digital mockup of your designs on the garments you want – we call these "Pre-Order Proofs" – just like this one;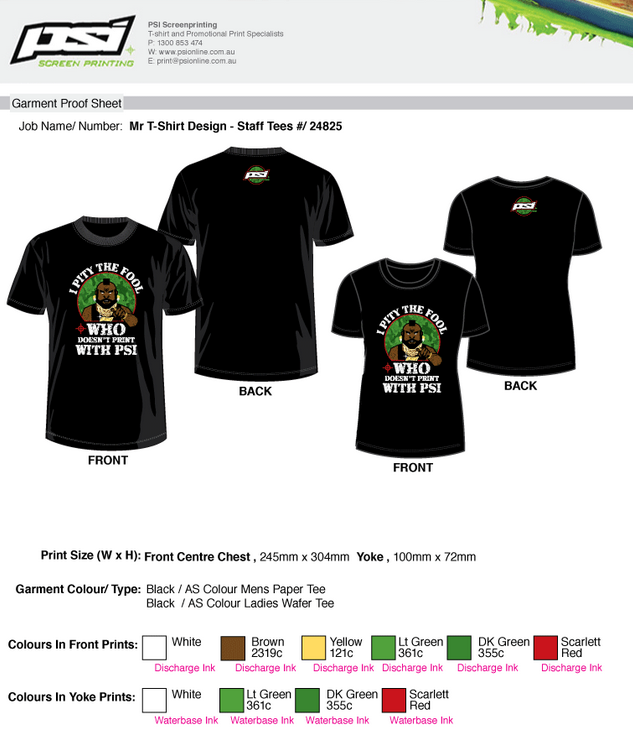 You'll cover a small fee of $30 + gst per design, and that amount gets credited back to you when you print the full run.

At this stage you can make 1 – 2 small changes to the proofs. Getting it all looking perfect now will help the order process to be nice & smooth when it's time to print.
Step 2) Lock in your timeline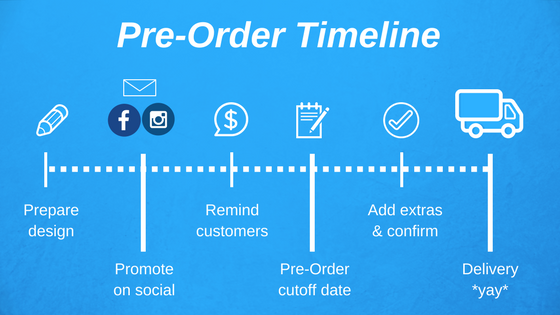 This one's really important….make sure you communicate to your followers a clear end date for your orders.  We've found through the success of our clients that 1 – 1.5 weeks is the sweet spot of how long to accept orders for.
Your Apparel Consultant will be able to put together a plan for you to work towards, including specific dates & goals.  They will also check in along the way to see how your pre-sales are going & keep everything on track.
Don't leave the order open for too long or your members might put off making a decision & could even miss out! This step is also crucial to be able to properly inform your crew about WHEN they can expect to receive their awesome new apparel.
For example;
Let's say you open your pre-orders for 1 week, and your production timeframe is 2 weeks, this means your followers who order on DAY 1 will have approximately 3 weeks from when they purchase their apparel to when they get to wear it.
So, being really clear on this timeline (& sticking to it) is absolutely imperative to save yourself some headaches and explanations in the long run.
---
Step 3) Promote
Once you have your Pre Order Proofs & order timeline planned out, spread the word!
Put your designs up everywhere…..Do a Facebook & Instagram post, include some pics on your website, print out a hard copy for all your local followers, and send a mail out to all of your contacts.
---
Step 4) Remind your crew about the cut-off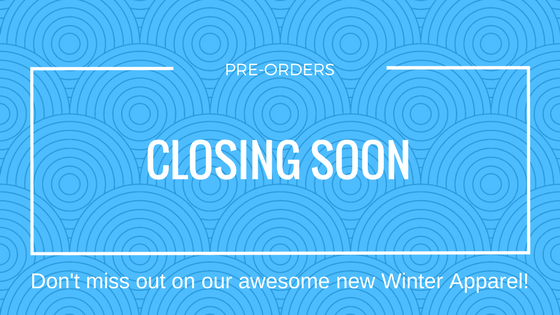 This is another really important step – not to be overlooked.
We recommend setting up a reminder that goes out to your followers a few days before your order cutoff date.
There are solutions on your social media accounts to schedule posts for a later date. The best way to do this is to write & schedule your reminder when you release your pre-orders, and then it will go out automatically without you having to think about it.
Based on feedback we've had from our clients, generally there will be a spike in orders when you first release the Pre-Orders to your followers, and then another spike when you send out the reminder about orders being cut off soon.
---
Step 5) Compile your orders

After your end date, there will always be a few stragglers wanting to be included, so give yourself 1 day as a buffer zone for those late orders to roll in. 
Make sure any of your customers who have expressed interest, but not yet finalised their purchase with you get a call or email from someone in your team to see if they'd like to still get in before the cutoff.

Keep in mind that individual folding & bagging of your pre-ordered stock is a must!  For only cents per garment, this removes so much time & effort in handling the stock and distributing to your customers.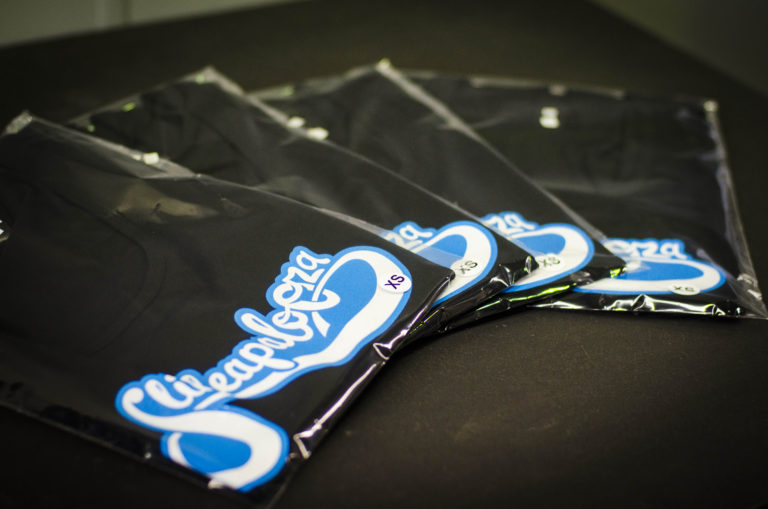 ---
Step 6) Add extras

Take your exact numbers from the pre-orders, and add some extras to have on hand.

Now…we have in the past seen clients who choose to place their order just for their exact 'sold' numbers…despite our advice.  What usually ends up happening is that they come back for a top up within 2 weeks!
Why?
Because those who didn't pre-order see the rest of their peers in their awesome apparel and then… they want one too. 
Not to mention the inevitable 'swap over' or 2 for customers who decide they want a different size.

We're not making this up – it's like clockwork.
The trouble with not adding extras, is it means you get caught in the trap of ordering smaller batches more frequently, which means lowering your margin.

Not to mention, any top ups will of course need to meet the minimum of 25 for it to be viable for screenprinting.
Just take a moment to think big picture…
Think about things like your projections for future print runs, how often you'd like to top up stock and what sort of volumes you'd want to order each time.
Of course you'll learn a lot about your customers from your first apparel print run, but it is extremely valuable to put a little time into planning for the future.
Here's an example of adding extras to your pre-orders;
S – 7 pre-ordered / 2 extras
M – 12 pre-ordered / 4 extras
L – 16 pre-ordered / 5 extras
XL – 7 pre-ordered / 2 extras
2XL – 3 pre-ordered / 1 extra
Total – 45 pre-ordered / 14 extras
---
Step 7) Put us to work!

Place your order with us, sit back, relax and your awesome new Cusom Apparel will be with you in around 2 weeks!
Your exact turnaround time may vary depending on your garment choice & finishing options.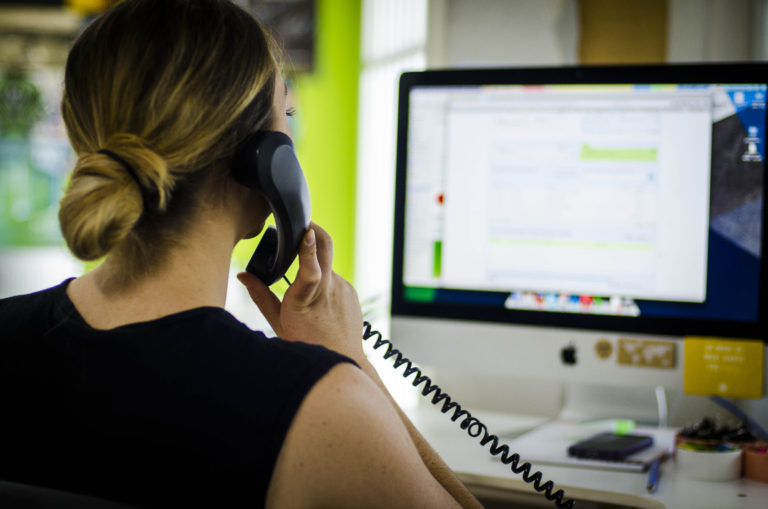 ---
If you're ready to get started on your pre-orders, just give us a call on:
1300 853 474
Or get in touch here and we can go over everything together!
Thanks for tuning in.